Covid-19 Update: at this time our lesson studio is closed until further notice, existing students should contact your teacher directly to inquire about the option of remote lessons.



Lesson Studio

The Melodee Music Lesson Studio has been operating for decades now, teaching students both young and old the craft of music. From beginners to experienced players, we offer one-on-one, private lessons for:
Guitar/Bass
Banjo, Ukulele, Mandolin
Piano
Voice
Drums & Keyboard Percussion
Saxophone
Violin, Viola & Cello
Trumpet, Trombone, French Horn, Euphonium, Tuba & Cornet
Lessons typically last 30 minutes, with one lesson per week at the same date and time.
SCHEDULE A LESSON:
Contact our Lesson Studio Manager,
Kay Benson
:
kayb@melodeemusic.com | (703) 430-8242
STUDIO HOURS
Monday - Friday: 2:00pm-8:00pm
Saturday: 10:00am-4:00pm
Sunday:
Closed
MEET THE TEACHER:
Patricia Mathews
Piano, Voice
Patricia holds a Bachelor of Music degree from the University of North Carolina of Greensboro. She has studied piano with Robert Darnell, Inga Morgan, and Ron Morebello of the Kensington Piano Trio. She has taught age groups from kindergarten to college and beyond. Her experience as a choral conductor and musical director for musical theater productions spans both coasts. She loves teaching and continues to be grateful for each new experience.
Mike Bailey
Acoustic Guitar, Electric Guitar, Bass Guitar, Ukulele
Michael Bailey is an accomplished guitarist. He has been playing for over thirty years. After being self-taught for four years, Michael studied Jazz and Classical privately for two years. He then attended Berklee College of Music in Boston Massachusetts. Upon completing his studies at Berklee in 1990, Michael became a very successful guitar instructor. His instructional experience includes 24 years of private, group, and band instruction.
Rocky Cancelose
Drums, Keyboard Percussion
Rocky began playing the drums at an early age. After playing in Elementary Middle and High School Bands he then went on to study with Clyde Connors from the U.S. Navy Jazz Band The Commodores. Rocky attended the Drummers Collective in New York and had the opportunity to study under Jim Chapin, Michael Lauren, Bobby Sanabria, Duduka Da Fonseca, and Kenwood Denard.
He has over forty years experience in percussion, and has been teaching drums since 1995.
Lauren Haren
Violin, Viola
Lauren Haren is a classically trained violinist and violist. She has studied with Alan Bodman and Cory Smith at the University of Akron where she earned her BM in violin performance in 2011 and MM in viola performance in 2013.
Lauren has been teaching private violin and viola lessons for a number of years to students of all ages. She has also taught high school students at Firestone High School in Akron, Ohio.
Alex Isom
Piano
With Alex's mother a piano teacher, Alex has been playing piano since he was 4 years old. Alex attended University of Virginia at Wise with a Minor in Music and focus on Music Theory. Alex has a strong adaptability with children with special needs including physical and mental disabilities. A personal belief of Alex's is that there is no disability that truly makes you disabled. Alex has studied with Andy Nguyen who was educated at Gnessin School of Music in Moscow.
Helena Goldberg
Piano, Voice, Composition and Songwriting
Helena Goldberg started her musical career at the age of four on the piano, and began performing and entering local competitions almost immediately. As a teenager, Ms. Goldberg attended the prestigious Aspen Summer Music Festival for classical piano, the piano and voice program at Westminister Choir College, as well as participating in masterclasses and touring internationally. She went to Manhattan School of Music where she got her degree in piano performance and composition.
Paul McCracken
Piano

Paul started playing the piano at age 7. He has enjoyed playing music professionally in all styles for many decades and would like to pay back the favor to you. Paul has over 10 years of teaching experience. He holds a bachelors degree in Music Theory from Cincinnati's College-Conservatory of Music. He hopes his students will be inspired and also have fun as they reach their unique musical goals. Currently, Paul can be heard playing at his church, and also with local contemporary jazz band Tony Craddock, Jr & Cold Front.


Bill Hargreaves
Trumpet, Trombone, French Horn, Cornet, Baritone, Euphonium, Violin, Viola, Cello
Bill Hargreaves has been a professional musician for most of his life. At an early age he played 1st violin under Col. Gabriel in the McLean orchestra. After apprenticeships in both the Arlington Symphony and the National Symphony, Bill played Trumpet in the U.S. Marine Corps in 29 Palms, California. Bill has played with many professional and semi-professional groups.
Quincey Nguyen
Piano
Quincey Nguyen has many years of experience teaching piano. After attending Vietnam's National Music Conservatory for seven years, Quincey subsequently left the country to pursue her educational dream in the United States. She is currently a piano teacher at Melodee Music. For a period of time, Quincey also worked at Our Savior Way Lutheran Church in Ashburn as the official keyboardist. Quincey's method of teaching piano has been honed for more than a decade.
Rick Roe
Acoustic Guitar, Electric Guitar
Rick has been teaching at Melodee Music since December, 2001, and specializes in the fundamentals of musci and guitar. He holds degrees from the University of North Texas and Southern Methodist University. Rick has been playing guitar since the age seven.
When he is not playing guitar, Rick leads a classical music ensemble called the Advent Project.
Check out his
YouTube
page.
Vince Suraci
Acoustic Guitar, Electric Guitar
Vince has been a guitar instructor at Melodee Music since 2006. He has forty years playing, and twenty years teaching experience. A 1994 graduate of the Musicians Institute's Guitar Institute of Technology (GIT), Vince previously studied music theory, piano, classical guitar theory and practice at the Northern Virginia Community College. Vince offer guitar instruction to all ages and levels.
Leonard Stevens
Acoustic Guitar, Electric Guitar
A professional guitarist for over twenty years and a graduate of the prestigious Musician's Institutes (G.I.T.) He has worked with some of the top names in the industry, as well as produced several artists. He has taught beginning to advanced guitar and bass. His background ranges from concert halls to piano lounges, R&B Funk groups to Heavy Metal bands and Jazz trios to Big Bands. Including extensive record, television and film projects.

Mike "T.M" Hanna
Mandolin, Ukulele, Banjo & Harmonica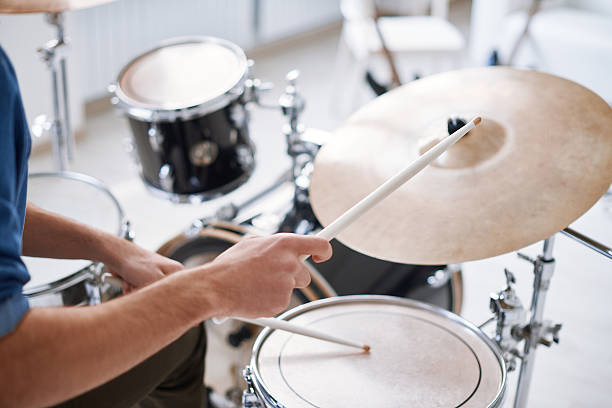 Jamieson Tobey
Drums, Keyboard Percussion

Jamieson has been playing drums professionally and teaching on and off for the past 20+ years. He grew up in Reston and went to Herndon High School where he played in concert band, marching band and jazz band. He went to University of Miami on a jazz drumming scholarship but left after one year to play in a variety of bands back in northern VA. He has taught students of all ages and abilities. He has performed in venues ranging from the Kennedy Center to Blues Alley to dive bars and everything in between.



Mark Davis
Trumpet
Mark Davis is a 2015 graduate of the School of Music at George mason University in Fairfax, Virginia. Mark graduated magna cum laude with a bachelor's degree in trumpet performance and a minor in Jazz studies.
Currently Mark performs with the Washington Metropolitan Philharmonic and the Loudoun Symphonic Winds. Mark is a member of the George Mason chapters of the Golden Key International Honour Society and The national Society of Collegiate Scholars and the International Trumpet Guild.