Rentals
Band Instruments
We offer lease-to-own rental programs for all school-approved band instruments. These programs include month-to-month rentals or you save money by paying for the entire school year upfront with a
"School Year Special"
(SYS) contract which runs until July 1st of the following year. See below for prices on either plan. Call for additional details or questions: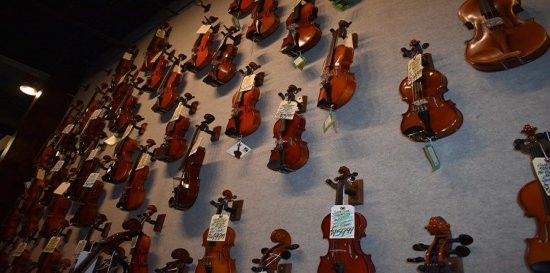 P.A. Equipment
Small and medium size sound system rentals are available from Melodee Music. Whether it's for a club gig, a house party or to amplify your voice for a speaking engagement. Melodee Music can help. Please call for pricing and availibility.
General P.A. Rental Prices
- ​P.A. Pack (includes two speakers & mixing head, and cables)
$100/day​
- Wired Microphones
$15/day
- Speaker Stands
$15/day
- Mircrophone Stands
$10/day
- XLR/1/4" Cable
$5/day
Auditorium
The
Melodee Music Performance Center
is available to rent for a variety of band concerts/stage performances every Saturday afternoon(two hour min. rental) and seats around 100 people. Please call for pricing and availibility.
General Auditorium Rental Prices
​- Two-Hour Rental (minimum)
$225.00
- Additional Time -
$100/hour
- Grand Piano Rental -
$100
- Microphone w/ Stand
$15/each
- Two Speakers w/ Stand
$5